Blavity News — A Newfound Voice: Sharing The Important Stories And Reflections Of Crime Survivors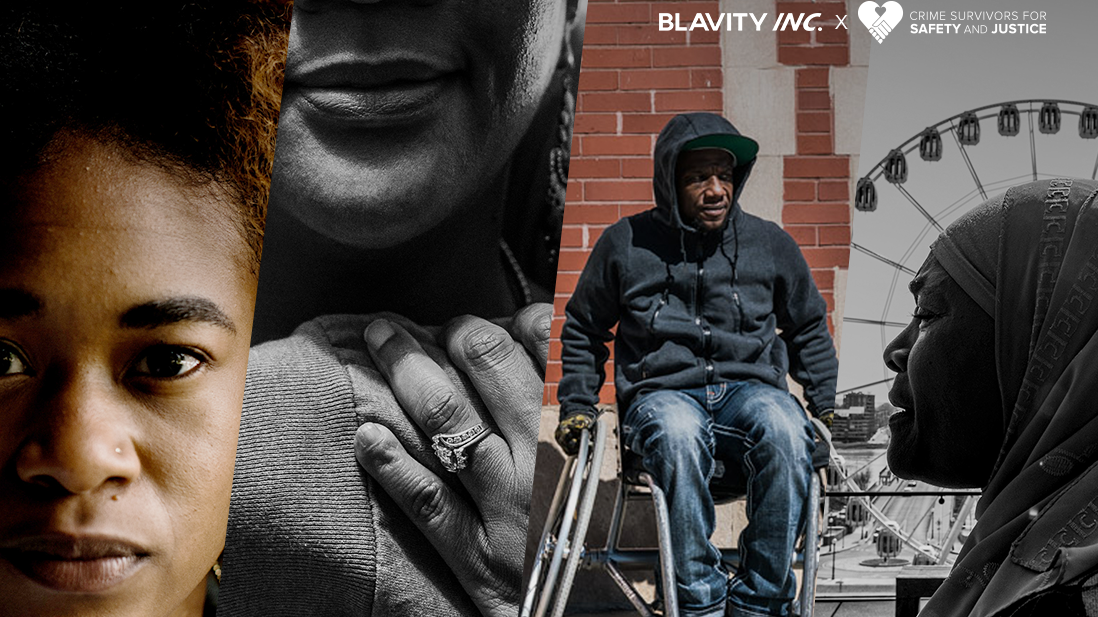 Trauma is something that can haunt you, throwing you into an unlikely group of survivors left to pick up the pieces and carry on. In honor of National Crime Victims' Rights Week, the Alliance for Safety and Justice and its Crime Survivors for Safety and Justice (CSSJ) network have joined forces to share and amplify the diverse stories of crime survivors across America. 
Since launching its National Crime Victims Agenda, the group has worked to share such stories by redefining what it means to be a survivor. In a new virtual exhibit called Survivors Speak: A Photo Journal, raw and poignant photography takes center stage and "confronts major gaps in America's popular perception of crime victims." 
"While Black, Brown and low-income communities have borne the brunt of concentrated violence in America, their members have never been acknowledged as our country's predominant crime victims. The virtual gallery, which features nearly 100 survivors of violent crime from states across the country, aims to close this gap by telling the untold stories of people from communities most harmed by violence," CSSJ says of this candid campaign.
Created by renowned visual artist Saddi Khali on behalf of CSSJ, the #SurvivorsSpeak series goes behind the scenes to shed light on the diversity of those bonded by trauma. Through Khali's lens, survivors from California to Texas have been given a new visual medium and platform to share their experiences and views on how to move forward. 
It's the culmination of dozens of interviews captured in homes and communities across the country — an experience Khali says is "an enormous honor to stand with these survivors, these healers and warriors as we continue to fight to dismantle the old way, and work to bring about a new system that centers us and meets our needs."
"I pray these stories access your heart and stoke a fire in you to join the fight. I know that, together, we can move beyond surviving and thrive." 
Featuring more than 100 images and stories, get an peek of the #SurvivorsSpeak photo exhibition below.
In Their Own Words

From mothers to fathers, sisters to brothers, violent crime is something experienced by many that touches us all. Meet some of the faces behind this powerful visual series.
Megan Hobson | Miami, FL

Megan Hobson is a Miami chapter coordinator for Crime Survivors for Safety and Justice and a vocal advocate for the expansion of services and supports for victims of gun violence. She is also the founder of Mending Hearts with Megan, where she facilitates survivor centered workshops and healing circles to hold space for survivors as they journey through trauma, grief, healing and advocacy. Megan was caught in the crossfire of a drive-by shooting at age 16.
Quote: "I believe no matter the hood, no matter the hurt, no matter the harm; survivors deserve to heal and we deserve to have the spaces to do so and opportunities to access these spaces. Survivors and legislators need to know this."
Elizabeth and Juan Carlos Muñoz Sr. | San Diego, CA

Elizabeth and Juan Carlos Muñoz Sr. launched a San Diego chapter of Crime Survivors for Safety and Justice in 2018 that they now co-lead. They opened Jr's Trauma Care Initiative, which welcomes people in San Diego affected by violence to come together and heal, after losing their son Juan Carlos Muñoz Jr. to gun violence in 2015.
Quote by Elizabeth: "I'm a nurse, so all I know how to do is heal, heal people, make people feel better. And me helping other people feel better through a process, whatever process that is, as difficult as it is, and having that platform, that's helped me."
Luz Doris Hernandez | Chicago, IL

Luz Doris Hernandez is a mother and co-founder of Padres Angeles (Angel Parents), a Chicago-based violence prevention ministry. Luz Doris lost her son to violence.
Quote in Spanish: "En el principio cuando pasa el crimen, eso es lo que somos, unas víctimas, pero en cuanto hay la sanación, en nuestra mente y en nuestro corazón, nace una capacidad para poder actuar.  Sin la sanación no puede haber acción. Si, antes era una víctima, pero cuando viene la sanación, ahora soy una sobreviviente."
Quote in English: "In the beginning when the crime happens, that is what we are, victims. But, as soon as there is healing, in our mind and in our heart, a capacity is born to be able to act.  Without healing there can be no action. Yes, I was a victim before, but when healing comes, I am now a survivor.
Shari Ware | Southfield, MI

Shari Ware is the Founder and Executive Director of Still Standing Against Domestic Violence & Redeemed Batterers Intervention Group, where she works with victims and perpetrators of crime to facilitate healing. Shari is also a CSSJ chapter coordinator in Southfield, Michigan, and a mother. She is a survivor of domestic violence.
Quote: "I believe that I have been called to go into the trenches to pull people out who were just like me, and so most of my life is based on that, but not only that. I have also been called to help those men and women who are inflicting the pain on people because they also, 9 times out of 10, have been hurt. And we're walking wounded." Eric Wilkins | Chicago, IL 
Eric Wilkins is an organizer for Communities United and the founder of an organization that supports people who are paralyzed from gunshots, their families and the millions who want an end to gun violence. He was shot and paralyzed at 28 years old.
Quote: "Life is precious. We really don't know the value of life because we see this [violence] happening so much in our community. This is an epidemic, and we have to do something to stop it."
Rukiye Abdul-Mutakallim | Cincinnati, OH
Rukiye Abdul-Mutakallim is the CEO, President and Founder of The Musketeer Association, an organization that works to end violence and promote healing. Rukiye lost her son to gun violence.
Quote: "I'm not looking for any recognition other than we stop this disease, we stop the growth of our prison system. Take that money, hundreds of thousands of dollars, and put them back into our communities for people getting treatment from the trauma. We need trauma services. We need trauma centers. We need people who have mental challenges to find a way to deal with these challenges and live their life more balanced."
Through the Alliance for Safety and Justice, CSSJ not only fights for victims of violence, they've provided a way for them to share and tell their own stories — allowing them to redefine what it means to survive. 
Get involved by supporting the National Victims Agenda today.
This editorial is brought to you in partnership with Crime Survivors for Safety and Justice. 
Read MoreBlavity News