Blavity News — Don Lemon Tears Into Rick Santorum After He Claims America Was Built From 'Nothing'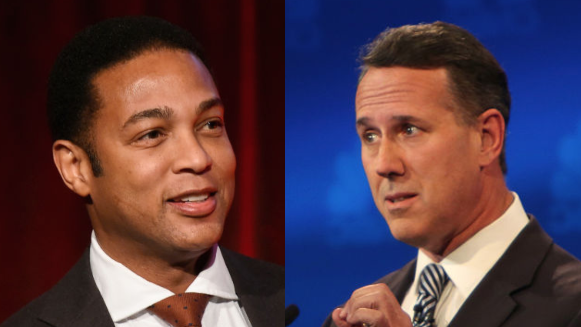 Don Lemon has never held back his criticism of outrageous claims made by conservative pundits and Monday night's airing of CNN Tonight was no different. 
Lemon was direct with his criticism of former Pennsylvania senator and CNN senior political commentator Rick Santorum who said last month that America was built from "nothing" and that "there isn't much Native American culture in American culture," The Hill reported. 
Santorum's remarks came during a conservative conference hosted by Young America's Foundation. People immediately called on CNN to remove Santorum from his position with the network.
On Monday, the former presidential candidate told CNN host Chris Cuomo that he "misspoke" and was referring to "the founding of our country." He added that he wasn't "trying to dismiss Native Americans."
During the interview, Cuomo suggested to Santorum that "it seemed like you were trying to erase diversity in the interest of some white Christian right," Deadline reported.  
But Lemon thought Santorum should have been issuing an apology rather than defer his remarks.
Don Lemon tears into Rick Santorum for not apologizing for his Native American remarks on CNN tonight.

"Did he actually think it is a good idea for him to come on television to whitewash the whitewash that he whitewashed? It was horrible! It was horrible and insulting!" pic.twitter.com/vLndQKE66A

— Justin Baragona (@justinbaragona) May 4, 2021
"I cannot believe the first words out of his mouth weren't 'I'm sorry. I said something ignorant, I need to learn about the history of this country.' No contrition, didn't talk about the suffering that Native Americans have had to deal with in this country. It was, I mean, Rick Santorum, really?" Lemon said to fellow host Cuomo after the interview.
"Did he actually think it was a good idea for him to come on television and try to whitewash the whitewash that he whitewashed? I mean, it was horrible. It was horrible and insulting, and I apologize to the viewers who were insulted by it, because I was sitting in my office, furious, because he's done it so many times. So many times, and it's just, I'm sorry, it was just so egregious and insulting," Lemon added.
In addition to being frustrated with Santorum, Lemon appeared peeved by Cuomo and his decision to bring the political commentator on the program. 
"I had him on because I wanted people to see what this is. There is no mystery for you guys," Cuomo said.
"People know what it is, Chris," Lemon responded.
The two hosts, who share a respectable friendship, appeared frustrated, ending the conversation abruptly with the conclusion they were not going to see eye-to-eye.
"We gotta go, because we're not gonna agree," Lemon said.
"We agree on the problem. What's the solution, we gotta figure it out," Cuomo said.
"I got a solution but, anyways, not my decision," Lemon responded.
Read MoreBlavity News